moodlet:

calm
moodlet:

confused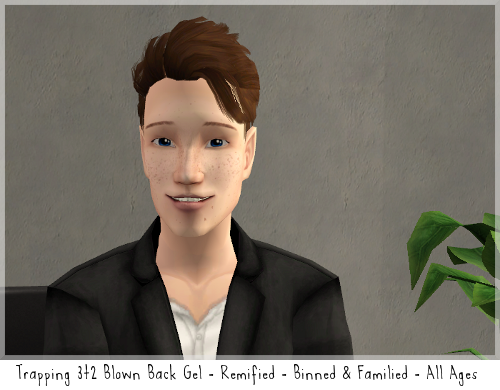 This can also be found in Simgaroop's colors, by
voleste
here
. :) I haven't seen it in
remisims
's colors or textures so I did it to match the rest of the hairs in my game
(but mainly because I love it on Loki)
. I can't remember where I found his blazer... Thank you to
trappingit
for the wonderful conversion, Remi for her
colors & textures
, and whoever made his lovely jacket.



moodlet:

mellow
This isn't a big deal or very important, but I learned how to texture reference files, successfully I believe, so I've went through all my previous retextures and made the files a wee bit smaller. In addition, I added or fixed tooltips for all the hairs and then I took some new previews for the earliest releases, because my slight need for things to match kicked in. So I will be updating previews & downloads. If for some reason something should break because of this, please let me know so I can fix it. Thank you!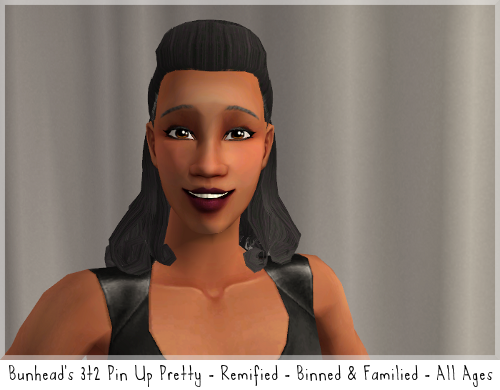 I originally saw a work-in-progress of this conversion on
le_plat_du_jour
's journal a long time ago when I was still just a lurker. I wanted it for a default replacement, but it was never finished and/or released. And then today, the wonderful
bunheadsbuns
released
their conversion
! So here is it in
Re
mi
's textures. :) Just a notice, in an effort to make the package files smaller I deleted duplicate textures & made the files all reference the same one. Cutting to the chase, when I tried to export the textures via body shop, it kicked out an error so my files may not be recolorable, if you tried to use them for whatever reason. All the colors show up fine in my game so I hope they're fine in yours too. If not, give a shout and I'll see what I can do! And a huge thank you to Bunhead for all their hard work. :)
EDIT:
You can find it in Remi's pretty wavy textures
here
by
selenaq13
!



moodlet:

cheerful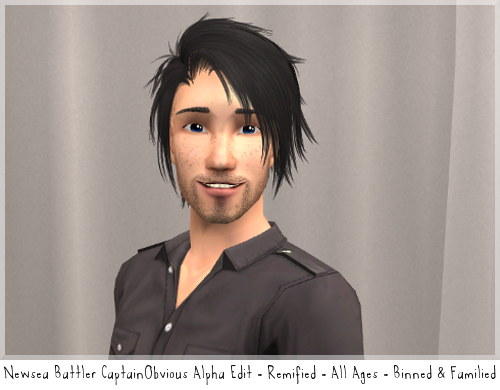 I found the alpha edit
here
on Garden of Shadows. It's really the same story as the coolsims retexture I did; I just like this edit better than the original & the other found at the link. As always, binned/familied/grey linked to black. Thank you
Re
mi
for your textures & colors and Amaryll for the model's
shirt
. :) Shout if anything is broken.



moodlet:

blah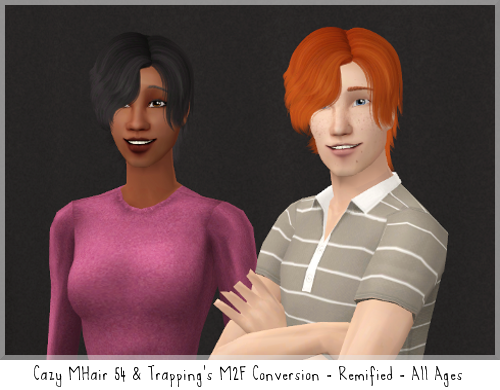 It's my birthday so have a retexture! I haven't seen anyone else do this hair yet so here it is. :) It's familied & binned, grey linked to black. Thank you to Cazy for the mesh, Trapping for the
conversion
, Remi
(tumblr/livejournal)
for her lovely textures and colors. The redheaded model is wearing a shirt made by Amaryll at their
livejournal
. Lemme know if anything is screwy and have a lovely day!
Boys:



Girls:



I found the edit on PeachT's blog, here. I like it better than the original so I went ahead and retextured it. :) The hoodie Trent sports was made by Amaryll and be found
here
. Other awesome goodies can be found on their
livejournal
. Thanks to those creators, Coolsims for the hair mesh, and Remi
(tumblr/livejournal)
for her textures and colors. If something is broken, lemme know!